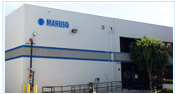 MARUSO USA INC.
2450 S. Sequoia Dr.
Compton, CA 90220
Tel: (310) 328-3870
FAX: (310) 328-3899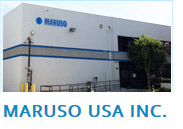 Back in 1975, MARUSO INDUSTRY CO., LTD was established in Japan. Shozo Miura, founder of this corporation as well as MARUSO USA INC., was inspired to design an innovative skirt clip after a casual conversation at a neighborhood dry cleaning shop. Around that time, most of the dry cleaners in Japan used aluminum clips and safety pins to hold a skirt on a wire hanger to save their business expenses. However, the aluminum clips and safety pins often damaged the material , and as a result, their customers hesitated to come back to the shops. Miura focused his attention on this simple problem and he spent his time on creating a better solution for the dry cleaners and the customers.
With his engineering background, Miura came up with a revolutionary idea, which is aluminum clips and safety pins could be replaced with a plastic skirt clip. Before the economy in Japan prospered greatly in 1970s, it was rare for Japanese people to wear expensive clothing as they do today. Because of this trend, the dry cleaners had to handle the expensive clothing more carefully than before for their customers. As more people started taking better care of their expensive clothing, Miura's first skirt clip invention was introduced on the market and its popularity soared unexpectedly among the dry cleaners. Since then, MARUSO has created its own innovative plastic clips and hangers and dominated the market share in Japan.
In 2000, Miura decided to introduce MARUSO's plastic products in the US dry cleaning market, though every dry cleaner he visited made him feel disappointed. No one was interested in the new way, until one dry cleaner shouted out three words, "I Love It." Since then, the dry cleaning market in the US has gradually recognized Miura's revolutionary idea and the dry cleaners have placed their trust in MARUSO's plastic clips and hangers. Today, with the support of dry cleaning suppliers, over 10 million units of MARUSO's plastic clips and hangers are used to satisfy the customers at many dry cleaning shops across the US every year.
Corporate Name:
MARUSO USA INC.
CEO:
Masakage Miura
Address:
2450 S. Sequoia Dr.
Compton, CA 90220
Tel:
(310) 328-3870
Fax:
(310) 328-3899
Capitalization:
$2,400,000 US
Patented:
104 Products and 6 Pending